Last month, our team announced the first round of a new initiative to help celebrate the unrecognized heroes in outpatient surgery: The Ambulatory Surgery Everyday Heroes Program.
This program was not only built to give back to the ASC community, but to recognize, honor and celebrate the remarkable ASC professionals who have overcome incredible challenges, gone above and beyond their role, and touched the lives of so many.
Over the past month, our team received hundreds of Everyday Hero nominations from outpatient facilities across the country. The ASC Everyday Heroes Program Committee has spent countless hours reviewing submissions and selecting the Top 12 Contestants who will move to the next phase of the program, and one step closer to the $5,000 cash prize.
With great honor, we would like to introduce our ASC Everyday Heroes Top 12 Contestants.
Help us select the 3 Finalists by voting for your favorite Hero!
1. Sue Jones, Patient Experience Liaison, Baylor Scott & White Surgicare - Rockwall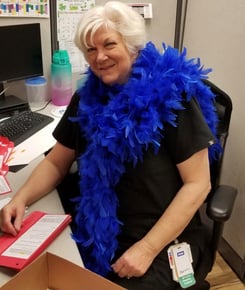 Sue's Story: "Miss Sue," as she is called by our staff, is the truly exceptional Everyday Hero here at BS&W Surgicare Rockwall. She started with us in 2017 as part of our Patient Experience improvement initiatives. We were looking for someone with a little bit of clinical background that could work part time and help us to keep patients informed, whether it be to assist the patients on what to do upon arrival or give status updates for family members regarding surgery status or delays. She had retired as a registered nurse a few years prior, but missed the environment and was antsy to have something meaningful to do with her time. Thank goodness, we found her.
A little about Sue Jones: Miss Sue is a retired RN of 40+ years. She is an Army veteran, her husband of the Navy. They are local Rockwall hometown alumni. Still to this day attending every high school football game during the school year, as far back as she can remember. Sue is attentive to caring for her spouse, Bill, her high school sweetheart, who has had some recent health scares. After his latest fall sustaining fractures, she still managed to balance his doctor appointments and multiple surgery trips to the VA hospital, all while making sure her duties were covered here at the surgery center. She is a breast cancer survivor and a matriarch of her family, always loyal to her calling as a nurse. Retired or not, caring for others is the blood of her veins.
Her role as the Patient Experience Liaison began much like a lobby/waiting area attendant, but her compassionate personality evolved her position into a sort of companion to all departments, across the entire center. She not only tends to the lobby, rounding on each patient/family for communication needs, but she also rounds to the business office, Pre-op, and PACU units. She assists with everything from medical records, to physician communications, to supply/stock and ordering, to the making of patient beds and stretchers. She is a key element on busy days where that extra set of hands makes a difference. Even more alluring, shortly after her hire she came to me wanting to do something extra to give back, specifically for our pediatric patients. She stated she loved to sew in her free time at home, which had led her to sewing for charities and donations throughout her life. She desired to make pillowcases that could double as duffle bags for the children under 12 having surgery with us. She humbly requested that her identity be kept completely anonymous from the charity gifts. She gets fabric donations from her friends and family and uses them to create a variety different pillowcase themes. Each one is then neatly iron pressed and placed into a little gift bag with a card stating "this pillowcase/duffle bag gift was handmade with love just for you by a surgery center volunteer," including washing instructions for the parents.
Her kind-heart mixed with her work ethic make her a one of a kind employee. Her eye to help at every opportunity spreads her positive light throughout the facility, we would not be the same without her. She recently returned from a medical leave after suffering from a small stroke, which had the entire staff worried and flooding with prayer. Though her speech has been left impaired, we got her back and she didn't let the stroke dull her shine. We would not be the same without you, Miss Sue Jones. Thank you for being our Everyday Hero here at B&W Surgicare Rockwall.
2. Sue Cook Beckett, PACU/Recovery RN, Parkway Surgery Center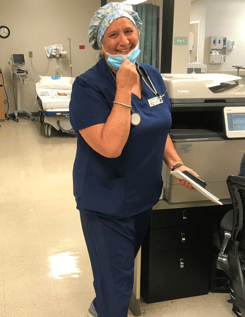 Sue's Story: Sue has been employed with our organization for 4 years as a PACU Nurse. Sue often tells her patients she loves her job and would not want to be anywhere else other than the ASC. She has a way of putting patients in recovery at ease with her comical sense of humor but at same time and she is very caring and is an advocate for her patients. She is an excellent nurse and team player who always pitches in and helps wherever and whenever needed. She is dedicated to her profession that she has worked in for 40+ years. (She often jokes that Florence Nightingale was her nursing school roommate). For the past eleven years, she has traveled with Paul Chester's Childrens' Hope Group. Each year she travels with the team of medical professionals to a third world country to help provide surgeries and healthcare for children in these impoverished countries. Sue does her own fundraising for these trips and volunteers her time and efforts to obtain much needed medical supplies. When we read about nominating a co-worker for this award, we all immediately thought of Sue and her dedication to her profession, at work and outside of work. Sue is our Everyday Hero and I hope you will consider her as yours also. Thank you.
3. Gail Burton, Patient Care Tech, Yellowstone Surgery Center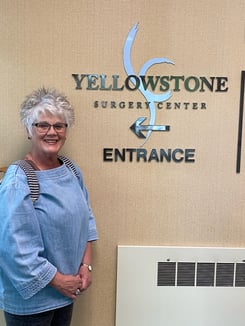 Gail's Story: I am nominating Gail Burton for the ASC Everyday Hero! Gail is truly one of a kind. Patients return to our surgery center asking for her by name. You would never know what Gail is dealing with at home (her husband's long battle with progressing cancer and a Type 1 diabetic son) because she always has such a positive, uplifting attitude every single day. Gail treats everyone like they are her most prized position. Gail is truly the mother hen at YSC. Gail's true calling is taking care of everyone around her. She listens, she truly cares and she is always the first one to start collecting money or start the meal train for a coworker in need. Gail continues to put everyone's needs above her own. Her work ethic is unheard of anymore. When I was out of work after having a hysterectomy Gail brought me 12 of the most delicious homemade monster cookies. She knows I have such a sweet tooth. Her little personal touches shows how much she truly cares. She has touched so many lives it is unbelievable. She makes sure to let everyone know they are loved (everyone from the guy delivering the Pepsi and Coke Products to the patient she just met). Working with Gail keeps my faith alive that tolerance, patience, decency and genuine human kindness has not been lost.
4. Lindsay Brackins, Charge Nurse, The Surgery Center of Fairbanks, Fairbanks, Alaska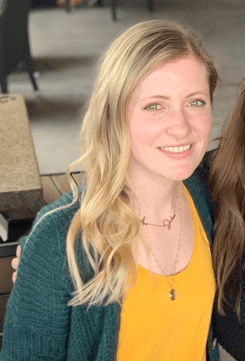 Lindsay's Story: Lindsay Brackins is an exemplary role model as an OR nurse, quality assurance master, and charge nurse. She is the type of person who never complains, demonstrates the highest initiative, and maintains a strong work ethic. Two weeks ago, her husband passed away unexpectedly, and she is left with two small children to care for while managing her profound grief. They were a beautiful love story, and her husband was in the military. Jackson, age two, and Ava, age four, are their children that Lindsay will now raise as a single mother. The Surgery Center of Fairbanks family loves her and is so sad for her loss. She maintains our spine quality assurance program. Her husband, Jason, volunteered months back to use his expert MS Excel skills to build an intricate spreadsheet that reduced the amount of manual work immensely! Lindsay is a strong young woman and has a long road ahead of her. We believe she is most deserving of your Everyday Heroes award. Please consider her for this award, and thank you so much for creating a program that recognizes the amazing healthcare workers that take care of people who need it! Lindsay's most recent Facebook post with a picture of her kids demonstrates her warm heart and strength to persevere: "As we attempt to navigate our new normal, these two continue to light up my life with love and laughter. They are my reasons."
5. Robert Ceminsky, Maintenance Department Manager, Mankato Surgery Center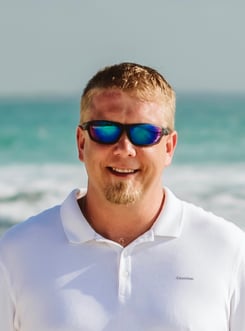 Robert's Story: Robert has had a role in the maintenance department for about three years and had not been able to take a real active role in the centers needs. He was asked to take the department manager when the main person left the facility. Since he took the managers role and the attention he gave to MSC was phenomenal. Our center has been 100% compliant with the life safety items (logs, testing etc), cleaned up and attention to details. He also has another person whom was hired to take his place. They work together in tandem and have turned our life safety code deficiencies into high priority. He responds to our needs as they arrive and keeps his word to do the work and actually gets it done. He has out-performed the previous person and has completely impressed every one of our team that comes in contact with him. Rob is very personable as well. Comes to work with a great attitude on how he can make things better and more efficient. He knows what we need. Shortly after taking his new role, Rob experienced a personal tragedy with his wife. She had a very severe life threatening accident causing her to be hospitalized for several months. They have school aged kids to tend to and Rob had to be home part of the time. He managed to still tend to work needs and did not stop taking care of what MSC needed (he was not always on site due to the incident). When he returned to work no matter if it was shorter days etc., he engaged with MSC team and assured us things would be done and again kept his word. The MSC team is very proud to have Rob as our maintenance team. He is a top notch guy as well as an attentive person. As the administrator of MSC, thanks to Rob, I can rest easy at night as I know things are done well and completed. Thank you for the consideration for Rob. I know he and his family could use this gift if you chose him, I know he would be very humbled and shocked. He deserves a break and what a wonderful thing to present to him and his family. His wife is currently doing very well but may never be fully back to her previous self but is grateful to be alive. Still not able to always work a full day but has done all the hard work to get back to what she considers some normalcy. In my mind, that is the everyday hero that deserves a break. Thank you for considering Rob.
6. Ryan Luka, Housecleaning, Advocate Surgery Center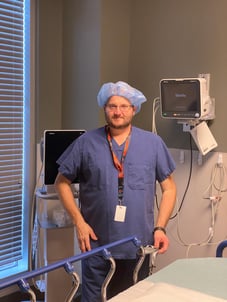 Ryan's Story: Ryan comes to our ASC after working a full shift from 7a-3p. He then works in our center from 4p-1a. We receive a 10/10 on every survey about our cleanliness. He terminally cleans the center everyday. He never misses a spot. He is good at his job and a wonderful person/employee. He is obsessive about how he wants this center to shine, and be a beacon of care for our patients. He is committed to our patients, his team and our company SCA!
7. Tami Braine, RN, CNOR, Operating Room RN, Banner Surgery Center-Peoria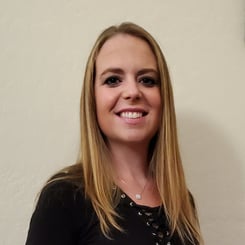 Tami's Story: Banner Surgery Center – Peoria would like to nominate Tami Braine as our Everyday Hero. She started her career caring for patients as a certified surgical tech. Knowing she wanted to grow her skills and provide higher acuity of care, she considered options for the next step in her career. A single mom at the time, she knew it would be tough, but she decided to go back to school for a degree in nursing and later certified as a CNOR. Her 16 years of operating room experience brings depth and knowledge to our facility and community. She supports our facility in many roles as an OR RN, surgical tech, SPD and Pre-op PACU RN. Her heart and compassion for providing outstanding care shows every day, not just with our patients and physicians but also with her colleagues. She is always available to help everyone no matter the size of the task and always the expert in her room. She strives to be continually engaged, anticipate needs and retain information to ensure we are organized and prepared for the physicians next case or visit; always reaching for the best possible care. Tami is a hero to every patient she cares for and exemplifies everything we celebrate with what is "Right with Healthcare". Tami shares her spare time with her husband and two children hiking, Jeeping, camping and exploring the outdoors. She also loves crafts and sewing. Tami is our unsung hero. She lives and celebrates our mission and values every day in and out of the facility. Her leadership and mentorship in our facility is inspiring in every way and she very much is deserving of the Everyday Hero Award.
8. Charlene Gottschall, Surgical Technologist, The Reading Hospital SurgiCenter at Spring Ridge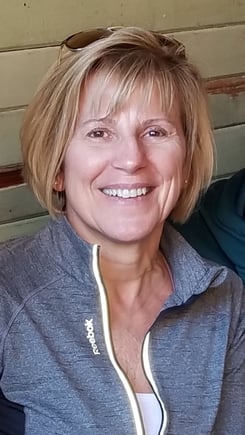 Charlene's Story: Charlene has been a surgical technologist for 44 years. She is a role model of professionalism in the unit and is every managers dream employee. Even after 44 years she strives to learn and challenge herself each year with a new procedure or technique. She runs circles around those half her age. Last summer she was diagnosed with peritoneal cancer and needed to have extensive surgery followed by a rigorous chemotherapy plan. Other than her surgical recovery the hours of work missed were MINIMAL. She came to work with such a positive attitude and motivation to beat this horrible disease. You never heard her complain or ask "why me?" one time. In early spring she got great news that her numbers were fanatic and we celebrated all the small milestones as a team along the way. In July of this year after not feeling well she asked her doctor to do some tests which showed her labs values were increasing. After further testing it was discovered her peritoneal cancer had reoccurred and as she stated those were harder words to swallow than hearing the initial diagnosis. But despite that huge bump in the road she remains positive that she beat it once and will beat it again. She immediately started a rigorous chemotherapy plan and will be on an oral chemotherapy for the remainder of her life. This diagnosis has pushed back her seeing her children and grandchildren who live out of state several times due to her inability to travel while undergoing treatment which has been the most difficult part of this process for her. She by far is the strongest person I have ever worked with and she will beat this again. I know no one more deserving of the honor of everyday hero than Charlene because she is always putting her patients, surgeons and peers before herself. She is the best and is my hero!
9. Rudy Suits, Patient Care Attendant, Surgical Center of Greensboro Greensboro NC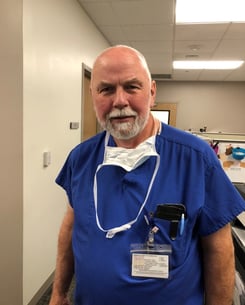 Rudy's Story: Rudy is an invaluable teammate at our facility. He single handedly transports dozens of patients daily from Pre-op to the holding area prior to surgery and NEVER complains about anything he is asked to do. He puts our patients so very much at ease and calms their nerves. He is a kind and gentle soul with a very soothing voice. He has dealt with much sorrow in his life, having lost a child with multiple handicaps. Despite that, he is always happy and is such a blessing to all of us here at SCG. If anyone deserves this recognition it is Rudy!
10. Tonya Brown, RN OR Circulator; Laser Safety Officer, Surgery Center of Plano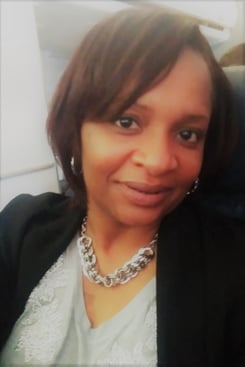 Tonya's Story: Tonya came to me as a CST, single mom of two who had just relocated from Chicago to North Texas. She worked hard, but had to pick up extra shifts in other areas to support her children. She was very prideful and refused to ask for assistance from anyone. We kept encouraging her to go back to school, but she didn't have the confidence that she would succeed. Finally she agreed to take one course to see how it went and from there she continued with her journey. Our staff stood behind her to make sure she kept going forward. Some even tutored her in courses. We saw tremendous growth both in her personal life as well as her professional. Of course, once she graduated, she was disappointed when I told her she needed to leave our center and go work other areas as a nurse to continue her education. Reluctantly, she agreed and did some ER and Neuro Step Down to gain experience. After 12 months, she called and said she was ready to come back to the OR. She is a very valuable asset to our facility and we could not be more proud of her.
11. Norma Broussard, RN, CPAN, PACU/Recovery Nurse, Medical City Dallas ASC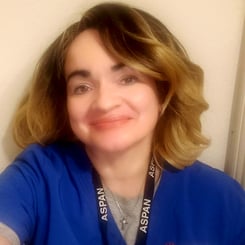 Norma's Story: I am nominating Norma Broussard. She is a sweet, tireless, energetic RN who works at our facility. She is always looking out for the best interest of everyone here. If anyone needs a helping hand, Norma is the first one to help. Her endless knowledge amazes me. Her humor brings me so much laughter in our day to day life. Throughout the pandemic, Norma has worked tirelessly with us and our sister facility to provide the best care possible to those having surgery. She has gone through multiple ups and downs in 2020 but has been able to stay positive and optimistic. She has faced multiple challenges this year but she is still able to come in every day and put forth her best attitude and effort possible. She is supporting 2 children in college and just trying to do her best in these difficult times. I appreciate her and everything she does!!
12. Lorenzo Mendez, Scrub Tech, Surgery Center of Boerne, TX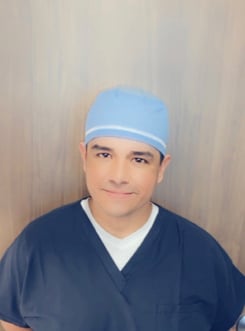 Lorenzo's Story: Lorenzo is an amazing employee. He always gives 110 percent to anything that he does, no matter how small the task. He is very detailed oriented, attentive and always anticipates the surgeon's needs. He takes pride in his work and always strives for greatness. When he does fall short of perfection, he takes accountability and learns from the mistake. Lorenzo is a father of four who spends lots of time with his children learning and growing each of their unique personalities. That task is not a small one considering that Lorenzo is also a full-time student working hard towards his nursing degree while excelling at a full-time job. Recently, Lorenzo was diagnosed with COVID-19 and was out for three weeks but during what he described as one of the scariest moments in his life he remained positive and pushed through. He is one of the most deserving people I know and it is an absolute pleasure to work with him.
Thank you to everyone who submitted their ASC Everyday Hero! Submissions for round two of the Ambulatory Surgery Everyday Heroes Program will open in January 2021.