Over the past few days, our panel of judges
(

Steve Earnhart, CRNA; Joanna Geisinger, CEO of Torq; and Stephen Punzak, MD, CEO & Founder of One Medical Passport)
met to review the Top 3 Finalists. Finalists included Gail Burton of Yellowstone Surgery Center, Charlene Gottschall of The Reading Hospital SurgiCenter at Spring Ridge, and Sue Jones of Baylor Scott & White Surgicare - Rockwall. The program judges reviewed each story, video, and also took into consideration the number of votes each finalist received. After careful consideration, a winner has been selected!
Our 2020 ASC Everyday Hero is ...
Charlene Gottschall, Surgical Technologist at The Reading Hospital SurgiCenter at Spring Ridge!
An Everyday Hero is someone who has o
vercome incredible challenges and obstacles, goes above and beyond their role, and truly makes an impact on people's lives. Charlene is the true definition of an ASC Everyday Hero.
Charlene received thousands of votes from the ASC community. Numerous voters called out that Charlene is remarkable, inspirational, and driven.
"My vote is for the fabulous Charlene Gottschall. She's one of the most positive and driven individuals I've had the pleasure to meet!" - Eric Taylor
The team at One Medical Passport is so honored to recognize and celebrate Charlene as the 2020 ASC Everyday Hero! Charlene
received a $2,500 cash prize, $2,000 to the charity of her choice (Charlene chose the McGlinn Cancer Institute) and $500 towards lunch for T

he Reading Hospital SurgiCenter at Spring Ridge!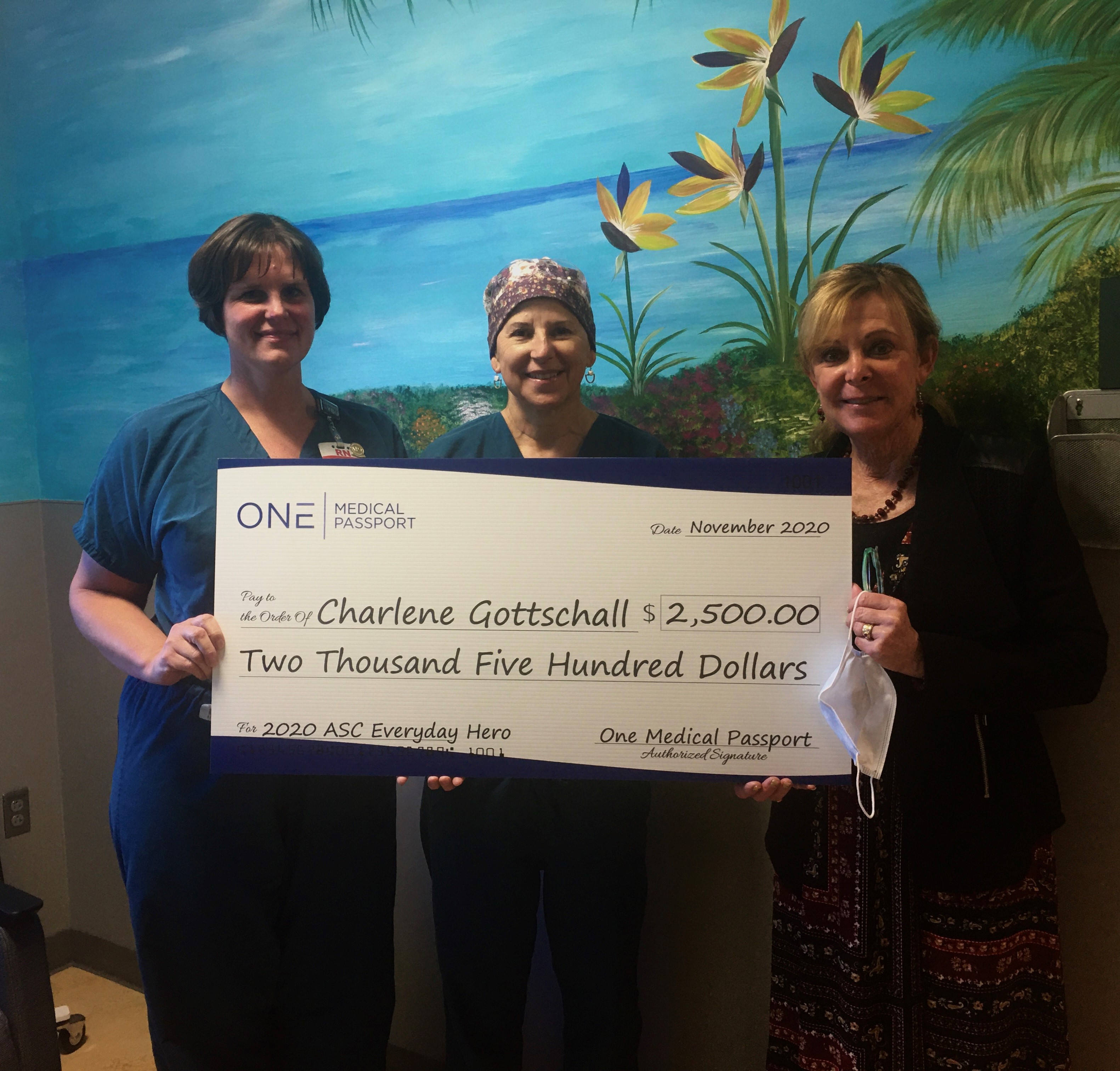 (Left to right: Susan Alexander, Director of Nursing; Charlene Gottschall, 2020 ASC Everyday Hero; and Pamela Ertel, Executive Director)
As the first round of the ASC Everyday Heroes Program concludes, the 1MP team wants to thank everyone who got involved and made this program a great success. It was a pleasure and honor to celebrate and reward the unsung heroes of outpatient surgery. The hard work and sacrifices of these remarkable professionals doesn't go unnoticed!
Stay tuned for the second round of the ASC Everyday Heroes Program coming in 2021!