It's amazing how "what's really important" can change in a matter of days and even hours. Last week, we were all somewhat concerned about coronavirus aka COVID-19. As the number of cases and the death toll has spiked around the world and here in the U.S., and as the news from experts becomes more dire, it is now everyone's top concern.
As workers on the frontlines of patient care, it is our responsibility to help identify COVID-19 cases to make sure that the spread of the virus is reduced as much as possible. Here are a few quick guidelines to help you distinguish Covid 19 from flu or allergies. Of course, the only way to know for sure is with a test for coronavirus.
The CT scan on the left shows the effect of corona virus on the lungs. The lung fields should be all black (air space), and large areas are replaced by white "ground glass" appearing lesions caused by fluid and exudate in the lungs.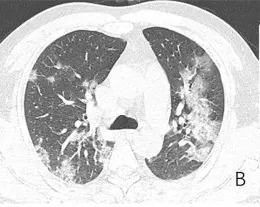 Coronavirus – This is a virus that specifically targets the lungs, and causes 3 major symptoms:
Fever – often, although not always, very high (103 degrees F is not uncommon)
Productive cough – a cough with sputum production is also a hallmark of coronavirus
Shortness of breath – because the virus attacks the lungs and causes SARS (Severe Acute Respiratory Syndrome) it is also known as SARS CoV 2
Flu – Influenza can also cause high fever and a productive cough, but in addition, it causes many more symptoms than corona virus
Myalgias (muscle aches)
Nausea and vomiting
Runny nose and nasal congestion
Headache
Allergies
Predominantly a runny nose and nasal congestion
Sometimes an associated sore throat
Sometimes a headache
Sometimes itchy eyes